Mattresses for Back Pain: Is Memory Foam Good For Your Back Pain (2023)?
The answer is YES! A hybrid mattress is definitely a good choice for back pain in 2022-2023.
Recently, hybrid mattresses are becoming increasingly popular. A mattress is essential for our sleep, and this is why the quality of a mattress really matters a lot to us. However, why are the hybrid mattress specifically good for people with back pain?
Lack of sleep or poor quality sleep can damage your health. You are more likely to develop serious diseases, obesity, high blood pressure, diabetes, and heart disease. If you've been experiencing a lot of back pain while sleeping lately, it's a sign that you may need a new mattress.
In this article, we'll take a look at the research to see what it says about hybrid mattresses and back pain. We'll also discuss some of the other benefits of hybrid mattresses and whether they might be a good option for you.
What is a hybrid mattress?
In brief, a hybrid mattress is a type of mattress that combines the benefits of both innerspring and memory foam mattresses. Hybrid mattresses have a layer of springs for support, followed by a layer of memory foam for comfort. This combination provides the best of both worlds for people who suffer from back pain. Innerspring mattresses are known for their support, while memory foam mattresses are known for their comfort. Hybrid mattresses offer the best of both worlds by providing support and comfort.
You can know more about hybrid mattress from Suilong blogs:
Why is a hybrid mattress recommended for back pain patients
Suppose you are currently using an all-foam mattress in your bedroom. Then over time, an all-foam mattress will create a sinkhole in your sleep area. And the spring coils in a hybrid mattress not only retard this collapse. It also provides additional support for your neck and spine, a key factor in preventing back pain.
A hybrid mattress constructed with hundreds of individually pocketed springs to support the entire body and carry heavier weight. Some mattress brands also design partitions according to ergonomics. The structure of memory foam and springs is arranged according to the pressure distribution of each body part. Such a structure can better adapt to the body curve and ensure the health of the spine and other health. It is the reason why people are suffering from back pain excellent choice.
Most hybrid mattresses also have at least one memory foam layer that provides a comfortable sleep experience for the body. In addition, premium memory foam provides the snug comfort needed to release tension and avoid painful pressure points.
Additionally, hybrid mattresses often have a medium-firm to firm feel, which can be beneficial for people with back pain. A firmer mattress can help to support the natural curvature of the spine and prevent the hips from sinking too far into the mattress, which can cause misalignment and discomfort.
Also suitable for side sleepers, the foam layer of the hybrid mattress will give you the feeling of sinking and provide enough pressure relief for your hips and shoulders. Plus, the coil support layer will prevent you from actually sinking into the mattress and promote proper spinal alignment.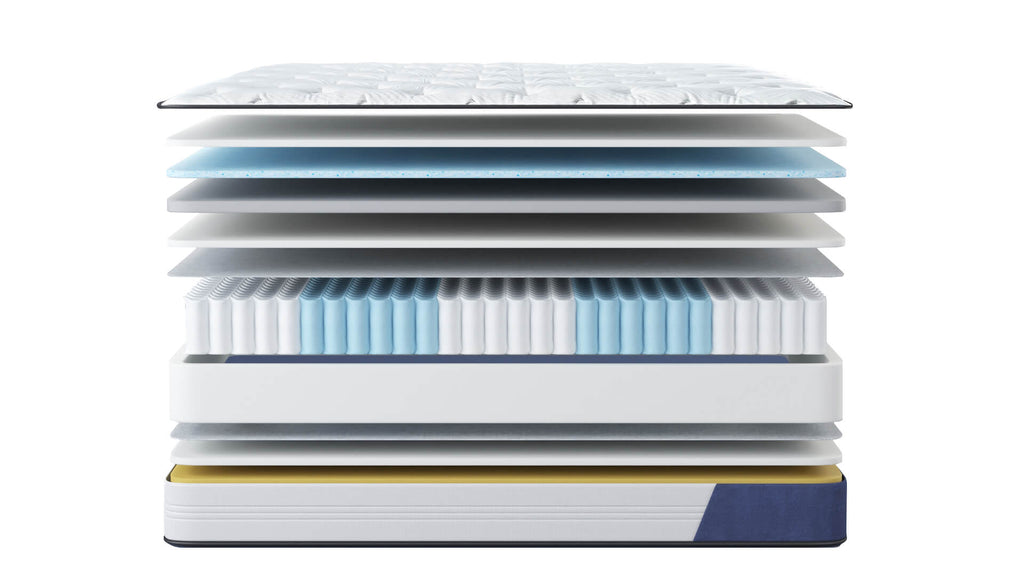 Can a hybrid mattress cause back pain?
NO. The mattress needs to be personalized according to the sleeper's weight and primary sleep position. If you buy a mattress of inappropriate firmness, it will lead to back pain regardless of the type of mattress.
The simplest test is if you wake up in the morning with severe back pain, your current mattress is not the right one for you.
But having a hybrid mattress with two structures minimizes the risk of creating back pain. The independent pocketed springs provide enough support to the body. And the upper layer of memory foam can maximize the fit to the body's curve and provide a comfortable sense of sleep experience.
The mattress causes back pain for several reasons
The mattress is subjected to changes in body pressure causing your body to become unbalanced, and the sense of balance needed for sleep is disrupted.

The overall match of the mattress is not good. There will be excessive pressure points and leading to a lack of oxygen to the muscle blood. So sometimes you wake up not only with a sore back but also exhausted.

The flexibility of the mattress is radical, either too hard for the lack of fit or too soft for the lack of rebound.

People cannot reset the mattress to its original state under the body's pressure, or it may be returned to its original position excessively.
The points mentioned above appear because of the use of mattresses that are not suitable for their physical state. Whether the mattress is too soft or too hard can affect the health of the body. If you buy a cheap mattress of very poor quality, there is also the possibility of skin allergies. So it is vital to choose a quality mattress that suits you.
Hybrid mattresses and back pain
If you suffer from back pain, you might wonder if a hybrid mattress can help. Hybrid mattresses are a popular choice for people with back pain because they combine the support of a firm mattress with the comfort of a softer mattress.
There are many different types of hybrid mattresses, so it's important to find one that suits your individual needs. A medium-firm hybrid mattress may be best for you if you have mild to moderate back pain. For more severe back pain, a firmer mattress may be necessary.
It's also important to consider the other features of a hybrid mattress when choosing one for back pain. For example, some hybrids have additional layers of padding for extra comfort, while others have gel-infused memory foam to help keep your spine aligned.
No matter what type of hybrid mattress you choose, make sure to consult with your doctor or physiotherapist first. They can help you determine which type of mattress will be best for your specific condition.
How to choose the best hybrid mattresses for back pain
If you're looking for a hybrid mattress that can help with back pain, there are a few things to keep in mind.
You will want to choose a mattress on the firmer side. This will provide the support your back needs while still being comfortable.

You will want to ensure the mattress has good edge support. This will prevent you from sinking too far into the bed and putting unnecessary strain on your back.

You will want to look for a hybrid mattress with a thick layer of memory foam. This will contour your body and relieve pressure points that can cause pain.

You will want to make sure the mattress is breathable. This will prevent overheating and sweating, which can exacerbate back pain. With these factors in mind, we've compiled a list of the best hybrid mattresses for back pain.
We are highly recommand Suilong hybrid mattress, which is the best hybrid mattress that's good for back pain with all advantages mentioned above.
With a combination of memory foam and innerspring coils, it provides both support and comfort – two important factors when it comes to alleviating back pain.
Plus, the Suilong hybrid mattress is one of the most affordable options on the market, making it a great option if you're on a budget. And with a 100-night trial period, you can be sure that you're making the right decision for your needs.
Alternatives to hybrid mattresses
If you feel hybrid mattresses aren't good for your back pain, there are plenty of other options to choose from.
There are memory foam mattresses, latex mattresses, and even adjustable air mattresses. Each type of mattress has its pros and cons, so it's important to do your research before making a purchase. You have to try them yourself.
Memory foam mattresses are popular because they contour your body and relieve pressure points. However, they can retain heat, and some people find them too firm.
Latex mattresses are similar to memory foam in contouring and pressure relief, but they're more responsive and cooler.
Adjustable air mattresses let you customize the firmness level, which can be helpful if you have back pain that fluctuates.
Conclusion
Overall, Hybrid mattresses are one of the best types of mattresses for back pain-free sleep. They provide support and pressure relief, and the hybrid mattresses can be customized to your specific needs.
It's worth noting that the right mattress for someone with back pain will depend on their specific needs and preferences. Some people may find that a softer, all-foam mattress is more comfortable, while others may prefer a firmer, innerspring mattress. It's important to try out different types of mattresses and find the one that works best for you.
If you have back pain continusly, it's more important to consult with a doctor or spine specialist before choosing a mattress. Once you have a medical professional's okay, start shopping around for the perfect hybrid mattress for your needs.
1 comment